Managing your Sales Pipeline
How to set up a sales pipeline

Use alerting to set a sales pipeline you can trust.


Using nurture campaigns

How to use nurture campaigns to build trust and convert customers quicker.


Using Gold-Vision on the road

Tips to help your sales team use Gold-Vision when they are out of the office.

Build a sales pipeline you can trust
Now that your team are using Gold-Vision for managing their pipeline and opportunities you can use some of the tips below to help you focus your forecast on those Opportunities that are likely to close.
Use a simple concept - we call it the "Gold-Vision Bloodboard", to help you highlight those opportunities which will close by your Estimated Closed Date.
Simply, highlight those opportunities that are high probability to close and lock in the estimated closed date as a "Bloodboard date". This then allows you to manage your Bloodboarded Opportunities in your Sales meeting - it's a practice that will allow you and your sales team to trust your forecast and maintain it.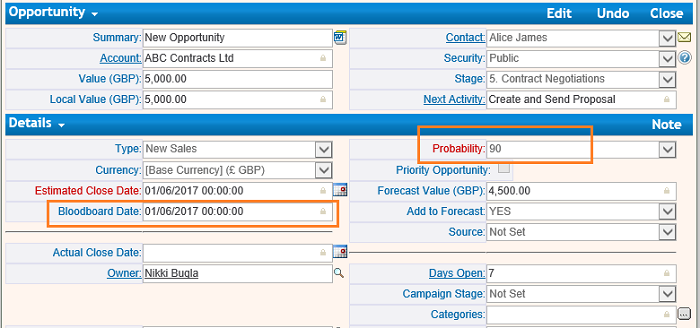 We have created an alert which sets the 'Bloodboard Date' when the Probability is set to 90%. This date has also been made 'read-only' so the date can not be amended.
Filter your list of Opportunities to show those over 90% probability and by 'Bloodboard' date, then simply pin the list to a Dashboard so you can focus on these Opportunities in your sales meeting.

Follow the easy steps in our Web Clip
Focus on priority opportunities
Set mandatory fields in your Opportunity to capture key information
Create an alert based on certain criteria being selected which then ticks a box indicating this is a priority or a qualified Opportunity.
In this example the sales person is in contact with the decision maker and they have the budget for the project - this meets the criteria and the tick box is checked.

This can then be used to create a favorite list so the sales team can focus on these priority opportunities: